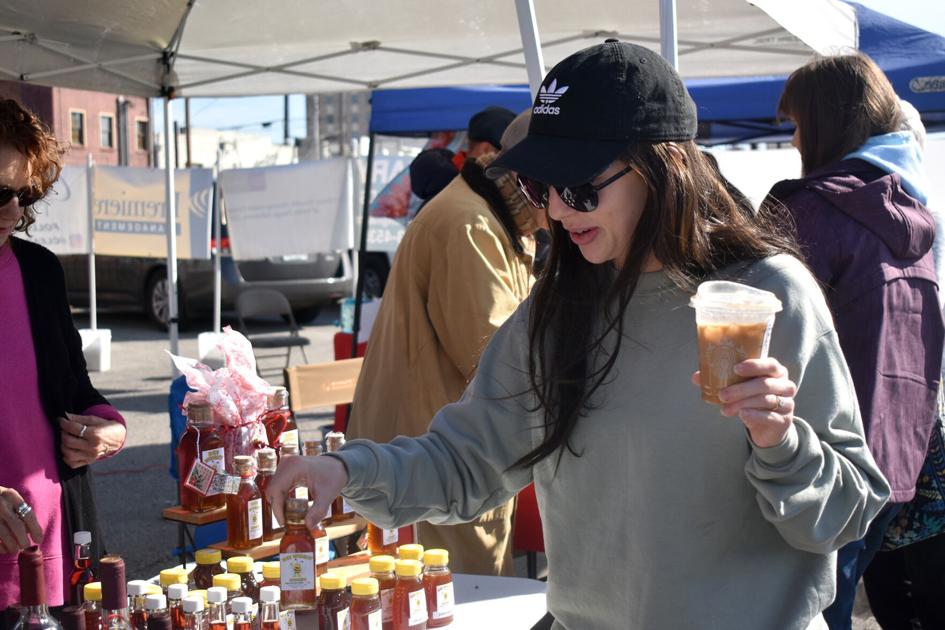 Special Holiday Market in Longview Offers Handmade Creations, Seasonal Delicacies | Local News
Vendors from Longview and elsewhere in the region showcased their handmade creations, crafts and delicacies on Saturday at the Holiday Market, which closed the season at the historic Longview Farmers' Market.
Marisa Guillory said she came to the weekly market at the corner of High and Cotton streets specifically for the macaroons made by Milk & Cookies Bakery.
"I go out most weekends," Guillory said.
Mary Joe Murphrey said she and her husband regularly go to the farmer's market to buy pork chops and blue cheese.
"We come a few times a month," said Murphrey. "There are special things that we like to buy.
Various seasonal foods, snacks and condiments were offered at the special Saturday holiday market.
Zareen and Sami Kahn, who run Chill'um, have brought a plethora of Greek and Indian inspired dishes.
"We have braised lamb with hummus and tabbouleh sauce that was all gone in the morning," Sami Kahn said. "So we have all of these cakes today (that) we usually don't. "
Zareen Kahn said she made fresh fruit pastries, cream cheese brownies, pumpkin cake and orange milk cake for the holiday market.
Claude Hammond of Wo Wo Joe Coffee gave away cold brew kits wrapped in festive ribbon, which he said would make a "great Christmas present."
Hammond, who said he learned about roasting espresso in Italy, came up with a holiday drink recipe that uses cold brew coffee.
"If you want to make an awesome fall and winter drink with cold coffee, you mix it with heavy cream. You put in pumpkin puree, you put in pumpkin pie spice, a little brown sugar, and you pour it over ice, "Hammond said. "It's fabulous, and better than a spiced pumpkin latte at any drive-through cafe. That's really nice."
Terry Wright, who runs Bee Wright, offered a variety of spicy and flavored honeys as well as mead.
In addition to flavors offered year-round, such as blackberry, peach, and pear, Wright also sold seasonal mead, such as cranberry.
Niki Latiolais said it was her first time visiting the Farmers Market and coming to support friends who run Greer Farm in Daingerfield.
She bought beef jerky from the Greer Farm stall, which her daughter, Logan Latiolais, said was "really good".
Madeline Clairborne and her husband Jalen said they are also coming to the farmers market for the first time.
"In fact, we moved to Longview four years ago and had never been to the farmers market before," said Madeline Clairborne. "It's always been on my to-do list, and never has been, so I thought the vacation market would be a good place to try for the first time."
She bought local honey from Bee Wright, whom she says always looks for.
"My daughter has allergies, so the local honey kind of helps regulate her allergies," she said.
The historic Longview Farmers Market is expected to return next year.